Alright, it's about time I got this started, especially considering I started my trip on the 27th and it's now the 9th of May.
The long-awaited Balkans trip.
I've wanted to visit this region of the world for as long as I can remember; it's culturally rich, historically fascinating, and overall I've heard only good things.
And the hype did not let me down. It was absolutely phenomenal. One of the best weeks of my life, ever, and that may even be an understatement. Everything about it was just perfect, even when things went very, very wrong.
So it started on the Saturday after our semester ended – we had a barbecue leading up to it (which I'll include pictures and a video from in another post to summarize the year), but Emma and I left early on Saturday morning to hit the ground running to Croatia. We headed out of Salzburg around 8:00 am, to a foggy and dim morning. I was incredibly sad to be leaving Salzburg, but I was giddy with excitement for what was to come. We had a series of really, really close transfer times (including a 5 minute one, which, if you remember the Linz post, doesn't end well generally) – but however, we made it. I was carrying a BUNCH of bags from the Center, filled with clothes and souvenirs and whatnot, but thankfully I shipped it home in Graz. There were a bunch of quirky little moments on this day of travel – from the very friendly lady who saw my bag and smiled and imitated a struggling body carrying a heavy backpack and told me "safe travels," to the man who didn't lock the WC door when using the restroom on the train (and subsequently, the mortified lady who walked in on him, much to his surprise), and a lot more, we ended up making it alright to Maribor, Slovenia. Maribor was a tiny little town – and unfortunately, it was pretty gloomy. As I had recently pulled my Achilles' tendon, my ankle was in a lot of pain, but we still wanted to explore the town in the limited time we had there, so we looked around for a little while and got some delicious gelato, then scurried back to the train station to catch our next train, to Zidani Most, Slovenia. Zidani Most was pretty cool – however, Emma and I were stuck for a few hours there, and there wasn't much to do, as there's no town nearby, and we were only transported there by a replacement bus. So we literally had nowhere to go outside of this train station. However, we made it work, and we got some Slovenian beers – the view was gorgeous and the weather was incredible, and Emma and I talked for a long time and had a really good conversation.
So after waiting around in the train station and getting some delicious paninis, our train was supposed to come – however, potentially due to the holiday (it was Easter Weekend for them, as well as a Saint's Day), our train wasn't showing up, and Emma and I got a little worried after 15 minutes of no train. However, another train came out, and a very nice Slovenian dude named Liem translated the announcements for us – there was another 20 minute delay for our train, which he was taking as well. We got to talking with Liem – he's a 20-something year old Slovenian rapper – which was interesting, because his English was incredible, and he explained that that's why, since he raps in English. I actually thought he was an American, because his accent was just so good. He was a really, genuinely nice guy – we talked about life in Slovenia – mostly drug issues in Slovenia, government corruption, the unemployment rate and how it's not getting solved, prices hiking up for living, and a lot more. It was fascinating, because it's stuff that you don't necessarily see when traveling – he mentioned that Ljubljana is the only "good place" left in Slovenia in terms of big cities – he mentioned he likes the countryside, but there's not much to do – but I found it all quite fascinating to hear about. He was such a nice guy and he told us about his life, his struggles, and wanted to know about our own lives. He helped us with all of the translations and stuff, then we boarded, gave a little "peace" sign, and said our goodbyes.
Also, if you want to check out some of his stuff, here's one of his songs:
From Zidani Most, we headed to Zagreb, where we had a little layover. We explored a little, but my ankle was killing me, so we headed back to the train station. There was also a money exchange thing with a stack of literally at least 1000 Euros just lying around – like no joke, I took a picture of it. It looks blocked off, but you could just reach under and grab the money, which led me to think it was a bait thing? The picture doesn't show it accurately – it'd be very, very easy to slip your fingers under there and grab the cash. So I'm not sure why it was just lying there.
Anyways, we hopped on our train from Zagreb to Split, Croatia, which was our first stop!
And Split was incredible.
When we arrived, we didn't have a hostel or anything, so we "showered" with baby wipes and used dry shampoo to "clean up," as well as brushing our teeth in a train station bathroom – one of many times I've had to do it, and still have to do. Unfortunately, water in the Balkans isn't very safe – it has cholera, Hep A, and other bacteria, so it's advised not to drink from it. Locals can because they have immunity, but as I don't, I didn't want to get sick.
Anyways, we took off exploring Split pretty early in the morning. Oddly enough, one of the first things we came upon was a HUGE military parade/show of force/something(?) along those lines. We were really confused what it was, but they had all of their tanks and armored vehicles lined up in the street (including a small helicopter), and soldiers were EVERYWHERE. Like all day.
Anyways, Emma and I ventured around with no real "end goal" in sight, but a slight pang of hunger, so it ended up that our first stop was breakfast/lunch. However, along the way, we passed SO many cool sites – from a little bazaar under the ground, to ancient Roman ruins from the 5th Century, to what reminded me of the Doge's Palace in Venice – this city had a lot of history. It was pretty cool, because often times I forget that the Romans also controlled Dalmatia and that whole region at one point.
We ended up stopping for breakfast/lunch at a quaint little café/restaurant called "Bepa!" (which we both proceeded to yell "Bepa!" as we walked by, accentuating it with the exclamation mark at the end of it). I ended up getting some pancakes with raspberry sauce, blueberry sauce, and some white chocolate, as well as strawberries, blueberries, and mint, and I got a lemonade on the side. It was such a delicious (and summery) meal and, oddly enough, it signaled a really good beginning to the trip.
So something to note about Split – it feels like Italy, minus the tourists. It was pretty damn quiet the entire time we were there, except in the afternoon, but it seemed like it was more tourists from the Balkans than anything else. Not a ton of Americans, which I kinda appreciated. Especially in the morning, the city was relaxed and quiet – perfect for exploring. After exploring a little bit more, we decided we'd head to the ruins of ancient Roman baths, so we ended up going "swimming" (which was me dipping in and complaining about how cold it was and proceeding to lay out in the sun for the rest of the afternoon), whereas Emma braved the cold (I was thoroughly impressed, because it was COLD). Anyways, the Roman baths and the beach were absolutely gorgeous:
I ended up falling asleep in the sun – like, knocking out, where Emma had to try waking me for a few minutes apparently. Needless to say, I got pretty badly sunburnt, for the first time in YEARS, but it was a pretty good way to get sunburnt if I do say so myself.
Anyways, Emma and I ended up walking back into town, where we had pizza for lunch. On the way, there was a pretty nice view of the whole city:
From there, we headed to the bus station, where we caught our bus to Sarajevo, our second stop.
I was worried going into it, because we were taking a sister company of Croatia Buses (if you remember my trip to Ljubljana, you'll remember how badly they screwed up). Thankfully, the bus was on time, but pretty quickly into the trip, there was a loud beeping, which the driver ignored, and turns out our engine overheated.
So we got stuck in the absolute middle of nowhere in Croatia with an overheated bus for 2 hours. It was hot and gross, and eventually a Croatia Buses bus came to pick us up. As our new bus took off, the old bus driver realized that he'd forgotten his passport on the other bus, so we were literally driving for probably a minute, backwards, on a highway. It was wild. From there, there weren't too many issues until the border. We got stuck at the border between Croatia and Bosnia-Herzegovina for awhile, and they ended up pulling a couple off, but they were allowed back on. And that couple ended up helping Emma and me SO much. We had to transfer to a different bus later on in the trip, but we didn't know that, and the couple translated every single announcement and whatnot for us, which we both really appreciated. Also, side note, the Bosnian countryside is absolutely, phenomenally gorgeous:

After our next transfer, we ended up making it into Sarajevo really late at night. We hired a taxi – I was still carrying another bag on front, which really hurt, and it was pouring rain and a fairly long walk to our hostel.
And this was the first of our taxi scams. It wasn't a HORRIBLE overcharge – it was the equivalent of like 10 euros, but apparently the average price was supposed to be around 5 euro. Oh well. Something I found interesting though, the Bosnian Marka is more valuable than the Croatian Kuna, which surprised me because Croatia is much more of a tourist site than BiH. Anyways.
We got into our hostel (which was excellent – I would highly recommend Vagabond Hostel Sarajevo! 11/10.), and pretty soon headed to sleep. In the morning, we got breakfast at our hostel and ended up meeting a cool Russian dude who warned us of pickpockets on the trams. It didn't end up being an issue, but he told us that he got his passport stolen the day before by pickpocketers, which is pretty horrible.
But Sarajevo. I could have a whole post dedicated only to Sarajevo – it is by far the most beautiful, heartbreaking, moving, impactful, interesting city I've ever been in, and I feel like may ever be in.

It was just phenomenally incredible.
Anyways, our first destination was right down the street from our hostel – the "meeting point" between the Eastern and Western Worlds.
So a fun fact, Sarajevo is known as the "Jerusalem of Europe" or "Jerusalem of the West," because there's so much Islamic, Jewish, Orthodox, and Roman Catholic influence. Anywhere you go, you're bound to find mosques, synagogues, or churches. It's really, really cool, and they're all intricately designed and it's beautiful to see how well they coexist. At the "border" as it be, there was a very significant, very obvious switch in architectural style – the eastern side was lower, felt more "Ottoman" and was much more Islamic – there were tons of mosques, bazaars, and Turkish restaurants, while the western side was more Austro-Hungarian-influenced, with some churches and the standard type of architecture that you'd find in, say, Vienna – more shops, department stores, etc.
So Emma and I decided we would head east. We ended up starting the day at a bazaar, from 1555. We wandered through it and there was immediately a sense of being in a different country – it really felt like we were in the Middle East. The clothing, language, and Islamic influence made it feel so… different than the Austrian-era Sarajevo that we had just walked out of. It was really, really cool to see!
From there, Emma and I decided to check out some various mosques, but mostly one that was destroyed in the Siege of Sarajevo. It was really interesting to see just how quickly and efficiently it was rebuilt, partially because the community banded together to repair the damages it got from extensive shelling by Serbian artillery. The main mosque, pictured below, is from Gazi Huzrev-Bey, who was a Turkish military leader who basically founded the whole Islamic community in Bosnia-Herzegovina, and especially in Sarajevo.
Unfortunately, the main mosque (the Gazi Huzrev-Bey Mosque) was undergoing renovations, but we still got to see the inside, which was pretty cool. It's the only one where the interior is pictured in the pictures above.
From the mosques, we headed to the spot of Franz Ferdinand's assassination. I've wanted to go to Sarajevo for as long as I can remember, but mainly for this site. It had such a monumental impact on human history – arguably, it started pretty much most of the wars after WWI (and WWI itself, of course).
Needless to say, despite the "minimalism" of the site itself, it was SO cool to be there. I'd seen pictures of it for years – the Latin Bridge, which Ferdinand crossed before getting shot, the museum that's now in its place – and I was FINALLY there!
That was the first real time I noticed that my dreams were coming true with this trip, as weird and cliché as that sounds. It'd been a goal of mine for YEARS to get out to Sarajevo and see this site, and it was only the beginning of a fantastic day – probably one of the best days I've ever had.
From the Latin Bridge, Emma and I wandered around for a little while until we found a little café called Talks & Giggles. It was a really quaint little café, and Emma and I both ordered smoked salmon and cucumber bagels – it was insanely good. After Talks & Giggles, we headed to a nearby synagogue, which was also really cool. Everyone was super welcoming and friendly, despite their limited English. Emma and I got a little "private tour" of the Synagogue, which was now on the 2nd floor of the building it used to be in, because the Nazis destroyed some of the building and the Jewish Community needed a "communal room" for women and men to be in together, which is now the ground floor. So basically, the floor was raised up. It was pretty wild, because you could still see the bullet holes that the Nazis left when they shot at the building.
From the synagogue, we decided we should go to an Orthodox church as well – so that we'd have visited a mosque, a synagogue, and an Orthodox Church. We went to the main Orthodox Church in Sarajevo, and it was incredible. Probably one of the coolest churches I've ever been in. It was so beautiful, and dead silent – Emma and I were only two of a very few people in there, and everyone seemed awestruck at the beauty of this building. Thankfully, due to the small amount of people, Emma and I were able to take quite a few pictures:
From the church, we headed back to our hostel, to book a trip out to the Tunnel of Hope. They had a tour guide who had a fantastic deal – around 15 Euros for free food, coffee, a tour of pretty much the entire war's historical sites (such as Sniper Alley, the Tunnel, etc.), and a hike up to an overlook that looked out on the entire city. The tour guide was 16 at the time of the war, so he still remembered everything. Unfortunately though, he couldn't do a tour the day of (it had to be reserved one day in advance), but our hostel's workers tried really hard to make it work for us. Unfortunately, we still couldn't get the tour, but they gave us resources to get out there – all of the information we could possibly need for public transportation and whatnot.
So Emma and I took a tram, and then a bus. The bus driver spoke pretty much no English, but he knew how to say "sit" and give thumbs-ups. We told him we were going to the Tunnel, and he told us to sit. Unfortunately, our bus didn't go too close to the tunnel, so it left us with about a mile and a half of still walking. However, when we went to get off at the nearest stop, the bus driver told us "sit" and gave us a thumbs-up. Emma and I were both pretty confused, but the driver ended up diverting his route to get us RIGHT next to the Tunnels. He gave me a little scrap of paper that he wrote the times he'd come to pick us up at, and told us to choose, so we chose the 4:20 one, and thanked him profusely for going so far out of his way to get us where we needed to be.
And with that, we checked out the Tunnel! And it was absolutely fascinating – I'd highly recommend it to anyone. In fact, the whole city was. It's probably my favorite place I've ever visited. It's definitely a "hidden gem" but it's a MUST-see.
Anyways, the Tunnel was incredible, as I just mentioned. The museum was really-well made – it only had a small section of the tunnel to walk through, because much of it had collapsed. Basically, in short, this tunnel was built going under the Sarajevo Airport, between two houses (on both sides of the airport) and it was a "lifeline" for the city – to move wounded troops, food, munitions, and supplies necessary for life in the city. It also allowed for electricity to the city and vital communications with the outside world during the Siege of Sarajevo, which was the longest-running siege of a city in history. The family whose house it opened up into allowed it to be turned into a museum! The houses all throughout the neighborhood were pocked with bullet holes from the war, which I found really interesting but also incredibly sad. The war killed SO many people (I'll get to that later) – and many children, at that, and to see the destruction firsthand – the bullet holes, the shell impacts, collapsed buildings – it made it all real to me.
Collapsed section of the tunnel, below another house

A "Sarajevo Rose"
Another interesting fact was the explosives – they had a series of de-mined mines. Bosnia-Herzegovina has one of the worst landmine problems in the world – even now, 24 years after the Siege of Sarajevo, Bosnia-Herzegovina has over 80,000 mines left, and people are killed every year while walking or farming. The mines that they had on display weren't "props" made for the museum – they were, or at least used to be, functional mines, meant for the specific reason to kill. That was quite shocking to me.
The museum was incredibly, incredibly well-done, and it was only one of quite a few museums we ended up visiting in Sarajevo. Emma and I headed out to the bus stop around our time to leave and ended up passing a house that had been mostly destroyed in the war:
We ended up making it back to the bus stop, where the driver welcomed us back on board and we headed out to a café, called Café Tito. It was pretty cool – it was filled with a bunch of Yugoslav memorabilia, as well as some old machinery from military history – for example, this armored train from WWI. I ended up getting a Sarajevsko Piva, a beer, which is probably my favorite beer I've ever had. Anyways.
Café Tito was situated in what is known as "Sniper Alley." Sniper Alley was a street full of skyscrapers, where Serbian snipers would take up position and shoot down on, really, anything that moved – women, children, men, innocent bystanders. And, as I'll mention later, they were aiming to kill.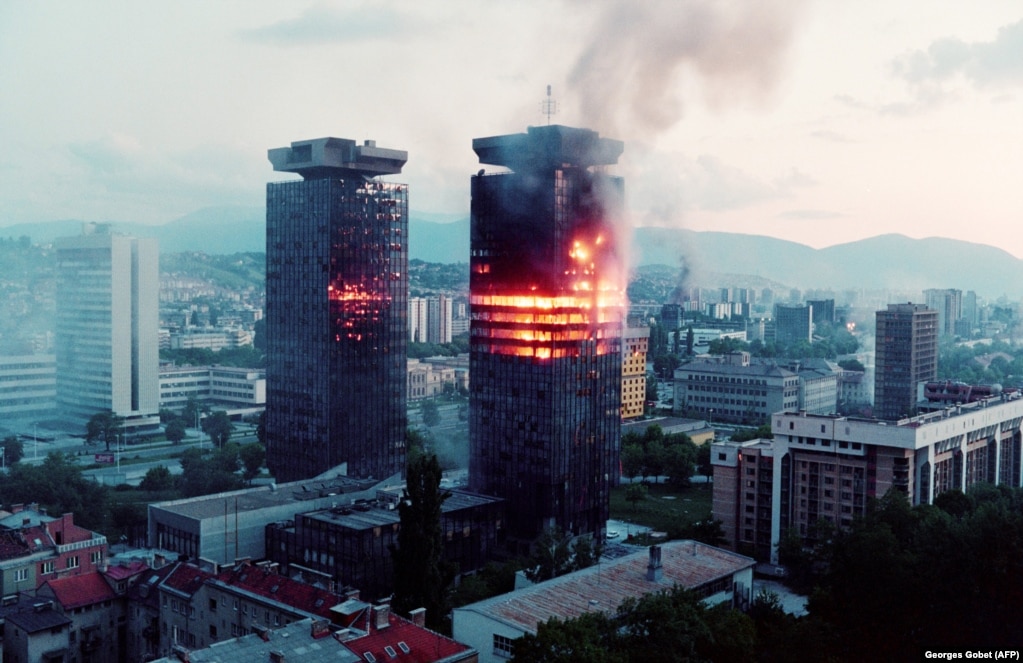 It was quite shocking to be on Sniper Alley – there are hundreds of pictures of dead teenagers, or dead women, or dead children, dead men, scattered around on this street, their lives taken prematurely by a soldier with a gun. I feel like I need to include a picture just to convey how horrendous it actually was – I feel like we tend to forget that this war ever happened. I won't include a picture of the bodies, but it really does evoke a certain sadness that is hard to explain.
However, while we were there, everything was normal. It was quite shocking to know just how privileged we were to be walking on this street without fear of our lives. However, the marks of the war were still there – literally every single building was pocked by bullet holes or shell impacts.
Also on Sniper Alley was the Museum of the History of Bosnia-Herzegovina. This was probably one of the best-done museums I've ever been to, but it was incredibly sad. The building itself, was, of course, riddled with bullet holes and shell impacts, and most of the museum covered the Siege of Sarajevo.
There were two exhibitions that particularly saddened me – the first being "Nermin's Sweater." I would highly recommend not reading if you think this will be too much, but I also think it's incredibly important to acknowledge and read – it's a very sad story, but I think it is important to tell to show the sheer brutality of the Serb forces that besieged the city. Nermin was a little boy – six or seven years old. While in Sarajevo, he befriended a French war correspondent/journalist/photographer, Enric Marti. They would go out and play with snowballs, or play games on the street – trying to make life in the city somewhat normal. However, Nermin was sniped in the head by a Serb sniper, through his mother's body, while Marti was there, and Marti was the one to photograph Nermin's body next to a UN vehicle and end up reporting on his death.
The classroom was attacked in the middle of this lesson.

An apartment prior to the war

How the people had to adapt – the average apartment after the start of the siege.
The same street while I was there.
The second exhibit that saddened me greatly was the story of a schoolgirl who was shot outside the museum. As she explains, the Serb snipers aimed to hit them through both legs, causing them to fall and be immobilized, and then they would take a second shot to the head when the "target" was immobile. PLEASE read this, I think it's also very important:
The whole museum really pulled at my heart – it was incredibly sad, but also opened my eyes to how lucky I am to be living without fear of walking in the street, or going to school, or whatever it may be.
I feel like, if I'm going to talk about Sarajevo and the Balkans conflict, I need to at least mention what it's about, which I learned mostly (or at least, came to best understand) due to this trip. I am choosing to do this because it is a confusing topic that I didn't quite understand at first, so hopefully my simplified version will make it easier to grasp. I find that it is much harder to learn about this accurately without being there and learning about it in person, which not everyone can do, so here goes a simpler explanation from what I've learned:
In short, Yugoslavia was broken up at the end of the 1980s and early 1990s with political upheavals and discontent after Josip Tito, the former leader, had died. At first, Croatia and Slovenia had declared independence from Yugoslavia. Yugoslavia, which was predominantly Serbian-ruled, backed ethnic Serb populations in the area – especially in Croatia – to fight against the ethnically Croat or Slovenian populations. Slovenia had a short war – around 10 days, while Croatia had a longer, bloodier war, but ultimately, the Croats pushed the Serbs out. Likewise, when Bosnia-Herzegovina went to declare its independence, there was a large Serbian population in the area, and specifically in the eastern part of Bosnia-Herzegovina, known as Republika Srpska (or the Republic of Serbia). Various Serbian or Bosnian Serb military and political leaders, such as Ratko Mladić and Radovan Karadžić, and Serbian President Slobodan Milošević, pushed to revolt against the Bosnia-Herzegovinian government, which was made up of, in large part, Bosniaks (Bosnian Muslims). As this declaration of independence undermined Serbian strength (as, as aforementioned, Yugoslavia was predominantly Serb), the Bosnian Serbs (in militias) and the Serbian military attacked Bosnia-Herzegovina, and specifically Sarajevo. Sarajevo was the subject of a 3-year-long siege (almost 4 years), making it the longest-running siege of a capital city in history. It is estimated that, in Sarajevo alone, over 300 grenades/rockets hit the city every day, and an estimated 11,500+ (upwards of 13,000) people were killed, many of them civilians or peacekeepers. In the war, across Bosnia-Herzegovina, over 30,000 Bosnian civilians were killed, also many of them women and children. Croatia ended up also getting involved – ethnic Croats in Bosnia-Herzegovina, that is, but ended up ultimately helping the Bosnia-Herzegovinians against Serbia. Serbs also committed genocide against the Bosniak Muslims (in control of the Bosnian government), in events such as the Srebrenica Massacre (in which over 7,000 boys and men were executed) and other groups, such as Croats, and later, Albanians/Kosovar. Serbia's genocide of Bosniak Muslims was the first use of the term "ethnic cleansing," and they ended up doing the same thing with Kosovo Albanians in 1999, but ended up being bombed by NATO for that.
However, they didn't specifically target Bosniaks – they targeted Bosnians in general, in their campaign of terror in which they sought to take over Bosnia-Herzegovina.
The war and its destruction is hard to understand, or to comprehend, unless you are there and seeing it yourself. As I learned later, ethnic tension is still very much alive, as really anyone over 28 or 29 probably still remembers some of the war.
Anyways. We happened to be in Bosnia-Herzegovina at a very interesting time; while we were there, the president of the Republika Srpska was calling to split off from Bosnia-Herzegovina, also on ethnic lines, which some experts fear could lead to more bloodshed. Meanwhile, there is also talk of peace between Serbia and Kosovo, in the same weekend we were in Serbia.
We then headed downtown, back to the eastern part/the Old Town, because Emma wanted to get some Bosnian coffee.
You see, the thing about Old Town – it feels foreign. It doesn't feel like Europe, even though it is. The mixing of cultures, the dedication to tradition – all of it comes together so beautifully to create a mosaic of humanity's goodness. And I find this particularly interesting regarding the war – despite obvious attempts to segregate or to create divisions based on religion, ethnicity, or whatever – and despite all of the evils that have been committed against such a beautiful country, the people are still strong and determined to keep their pre-war cultural mixing.

And I think that is what makes it as beautiful as it is.
You walk down the street, and you hear artisans hammering away at metal, just as they did traditionally, or old women weaving away any problems with a smile on their face, or old salespeople calling out, or the bustle of a traditional Bosnian market, all while walking through architecture which dates back hundreds of years, and a mixing of cultures which date back even further.
Sarajevo is incredible, to say the absolute least.
Anyways. I could go on about how much I love this city, but I'll save it for the end of the Sarajevo section.
After the coffee, we went downtown to check out the Srebrenica Massacre Exhibition, which ended up being closed unfortunately. I learned SO much about Srebrenica for a report I had to do on ethnic cleansing in Myanmar, so I was very interested in seeing this exhibition. Alas, I'll see it next time I'm there – and I'm sure there will be a next time.
So instead, Emma and I headed to the Museum on Genocide and Crimes Against Humanity, 1992-1995.
And I don't remember a museum that has hit me harder than that one.
Pretty much the entire museum was a collection of firsthand accounts of the war – of genocide, of brutality – and stories of people who lost loved ones or who died in the war.
There were some particularly horrendous depictions of what happened – articles of clothing worn by rape victims, or blood-stained trousers with bullet holes, worn by a man who was shot between the legs so as to suffer, or a helmet with a bullet hole straight through – among many others. There were pictures of corpses everywhere – or victims who had been tortured – but as the museum explained, it was necessary to show them so that we truly grasp the horror of what happened and so that it does not happen again. The part that got me the most was the story of a 15-year-old boy who witnessed his entire family get massacred, and led to his death, watching many of his friends and classmates get executed by their own classmates (Serbians). He managed to survive, but no-one who was with him did, and he ended up getting lost in the woods for days, eating grass to survive.
The statue of the man of bread was made because there was a grenade attack on a line of people waiting for bread, and it killed 26 women, men, and children. Right next to where my hostel is nowadays.
I implore you, please read the pictures I have included. I haven't included the photos of dead bodies (for fairly obvious reasons) but one thing is for certain – they definitely drove the point home. I left the museum sick to my stomach and tears in my eyes. The crimes committed against Bosnians are horrendous, and the effects of them are still visible.
After the museum, Emma and I decided to go get dinner. We took a little stroll around in the rain, then wound up in a little restaurant. Another thing about Bosnia-Herzegovina which I love? It's SO cheap.
I got a traditional Bosnian soup – Bosnian smoked chicken, onions, tomatoes, potatoes, carrots, green beans, spicy peppers – and a beer for $4. Four! And it was so, so delicious, and so, so filling. It was incredible:
After dinner, Emma and I wandered around a little more and took some pictures. We decided to see another part of town, which we weren't going to see originally (because it was raining hard), because, as Emma said, "If you don't see it now, you're gonna beat yourself up for it when you leave." We ended up also finding a tapestry market thing, which was pretty cool!
From there, we headed back to our hostel and headed to sleep. It was a full, fulfilling day in Sarajevo, and I was SO glad I went.
In the morning, we were woken up by the sound of the Salat al-fajr, which is an Islamic call to prayer at 5:00 am.
It was incredible, and so, so beautiful. I'd only seen clips of things like that in documentaries from Jerusalem or Islamic cities, and I never would have thought that a morning prayer from a different religion would make me teary-eyed, yet I sat in bed tearing up from the sheer beauty of it.
Sarajevo, to put it lightly, was a dream. It felt like the moon. Not in its craters, but in its beauty. Its unexplored beauty. People seem to back away from visiting this region because there's a misconception that it is unsafe – this is wrong, at least in my experience; I felt far safer walking around at night in Sarajevo than I have in most other European cities – significantly safer than I did especially in Paris, or in Vienna.
Sarajevo has this innate beauty to it – not only in the scenery, or the surrounding landscapes – which, don't get me wrong, are phenomenally gorgeous. The beauty is in the people and in the culture and in the history. Sarajevo has such a rich history – dating back hundreds of years – and is such a mixing pot of cultures, religions, languages, and people. And not to mention, the people in Sarajevo are some of the nicest I've ever met. What's even more beautiful to me is how the people have managed to overcome hardship and use it to bind them together. Whereas the oppressors tried to divide, Sarajevans brought themselves together, despite their ethnicities, languages, or race, which I find incredibly touching.
Sarajevo really did take a piece of my heart. More than any city I've ever been to, I fell in love with Sarajevo. The smiling faces of the people on the street, or the genuine acts of kindness that I witnessed, or the ability for the people to overcome adversity. Everything about it was just incredible. If anyone were to visit Europe and ask what city they need to see, whether for history, music, culture, whatever – I wouldn't recommend Paris, or Berlin, or London, although those are all great cities themselves – I could not recommend Sarajevo enough. It is just something else, truly. I can't get over this city. I fell in love with this city and I know that I will be back. I am absolutely positive. And I look forward to exploring more of Bosnia-Herzegovina – Mostar, for example, or other areas. Bosnian-Herzegovinians are by far the nicest people I've ever met – any one of the people we encountered would surely be willing to give you the shirt off their back with a smile on their face, without hesitation. They are joyous – jovial, really; incredibly cheerful, friendly, down-to-earth, and more than helpful. The beauty of this region comes not in its culture and its history, but in the generosity and love of its people, despite enduring so much hardship only a few years ago. It was truly a beautiful thing.
As this has taken up most of the post, I have decided that I will cut here and make Belgrade, Sofia, and Bucharest into another post. (Partially because this one says it'll take almost an hour to read). Sorry.
I'll include a video when I'm done with it, but it may be quite awhile. Haven't started, and don't really have much time to work on it right now as I'm still traveling.
Anyways, enough of me rambling about how much I love Sarajevo.
But please, visit it.
S ljubavlju iz Splita/S ljubavlju iz Sarajeva/Mit Liebe aus Split und Sarajevo,
Cal
PHRASES:
Croatian and Bosnian: Dobar dan! = German: ,,Guten Tag!"/ ,,Hallo!" = English: "Good day!"/"Hello!"
SONG:
"Left Side" by Eloise. I saw her live last year and she just came out with this song – really chill, relaxing, and incredibly good. A very talented singer.